Narooma Plaza Giving Tree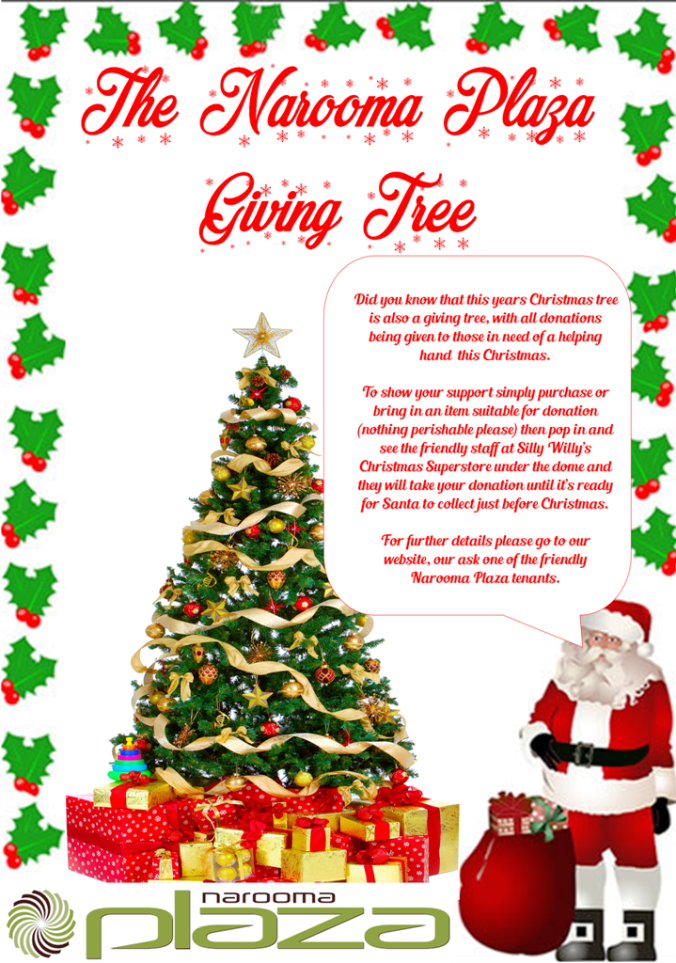 Narooma Plaza Giving Tree
Donate a gift to the Narooma Plaza Giving Tree
Christmas should be a magical time for children, young people and families, and most of us look back to special childhood Christmas memories with family, gifts and friends. But for some of the most vulnerable in our community, Christmas is a time of upheaval, fear and anxiety.
Christmas is a time to give, and yet for thousands of children, young people, families and adults, this time of year is not filled with excitement, celebration and gifts.
This can be overcome through the generosity of individuals, groups, clubs, businesses and schools coming together.
Gifts are needed for girls and boys, men and women of all ages.
While we appreciate the generous support of the public we do ask that all gifts are new, unwrapped and non-perishable. No second hand or food gifts please
Here are some ideas of what you can donate:
• Board games, puzzles, make-up, art and craft supplies and kits are great gifts.
• Outdoor and sporting equipment would be greatly appreciated.
• Store gift vouchers can also be given.
• We ask you not to wrap donated gifts (we need to see what it is to make sure it goes to the right person)
It's best if items are brand new.
Drop off location:
Silly Willy's Christmas Superstore - Shop 3 (Under the Dome) at Narooma Plaza
How are the gifts distributed?
The local charities will be distributing the donated items to those in need.