Mother's Day Giveaway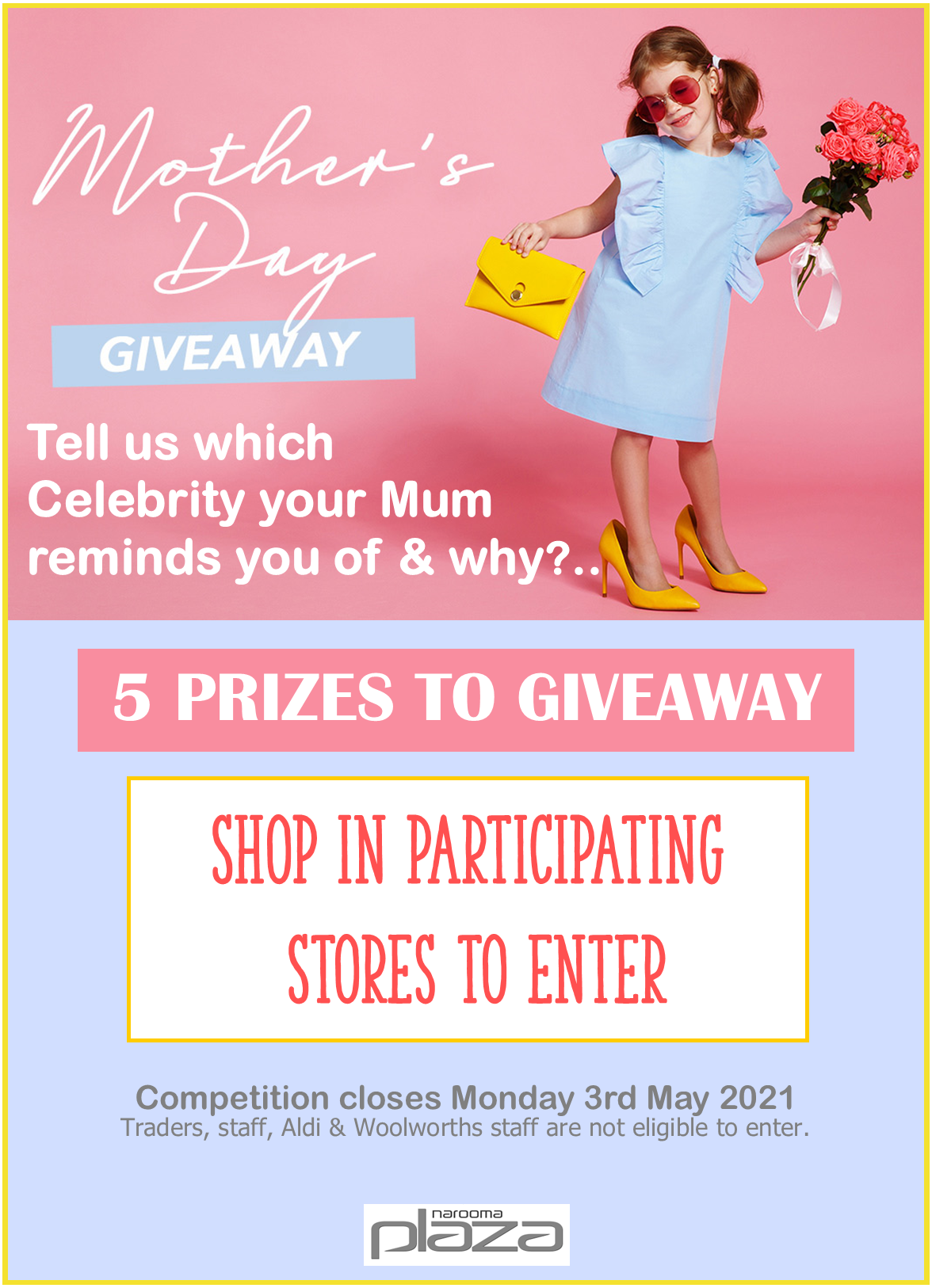 Terms and Conditions – Narooma Plaza Mother's Day Promotion 2021
1 Entry into the promotion is deemed to be an acknowledgment of these conditions of entry. 2. Tell us which celebrity reminds you of your mum & why. 3. To enter shop in any participating Narooma Plaza stores (12 stores*). 4. Each participating store will have a QR code on their counter. This will take you to the entry form to fill out with Name, phone number, email & answer, or go to www.naroomaplaza.com.au for competition details.
5. Participants may enter multiple times but are only eligible to win one prize. 6. Promotion commences Monday 19th April 2021. Entries close on Monday 3rd May 2021. 7.The competition draw will take place within Narooma Plaza shopping centre on the 3rd May 2021 by Narooma Plaza representatives. 8. Employees of the promoter, Narooma Plaza, and their immediate families are ineligible to enter. Narooma Plaza traders and their staff including Woolworths & Aldi staff are ineligible to enter. 9. There will be 5 prizes to be won. Each winner will win $50 worth of Plaza dollars. 10. Winners will be contacted by phone & will be published through social media & around the Centre. 11. All prizes are not redeemable for cash or other goods or services. 12. The judges' decision is final and no correspondence will be entered into it. 13. Narooma Plaza reserves the right to use any entries for publication. The winner and the winners parent/guardian may also, at the request of the promoter, be required to participate in publicity activity on behalf of the promoter. 14. If the winner is unable to be contacted by Wednesday 5th May 2021 the prize will be redrawn. 15. The promoter reserves the right to at its sole discretion, disqualify any entrant for submitting any entries which are not in accordance with these conditions of entry. 16. The promoter reserves the right to, at its sole discretion, disqualify any entrant who tampers with the entry process.
17. To the full extent permitted by law neither the promoter nor any of their associated agencies accepts any liability for any injury, damage, expenses or loss of whatsoever to persons or property arising from or in connection with this competition. 18. No individual prize exceeds $1200 & total value of prizes do not exceed $50000.
19. The promoter is Narooma Plaza, 183 Princes Hwy Narooma NSW 2546, phone (02) 4476 4180. ABN 59 407 674 893. NSW Trade Promotion Lottery Permit No: TP/00541
*Stores included: Narooma Medical Centre, Narooma Newsagency, Raven Café & Grill, New Body Massage, Heads Together Hair & Beauty, Octopus Gardens Childcare, Narooma Plaza Pharmacy, Silly Willy's, Home At Montague, Plaza Cellars, Rapley & Sons Butchery & Crafts 2U.