Massive Mother's Day Giveaway!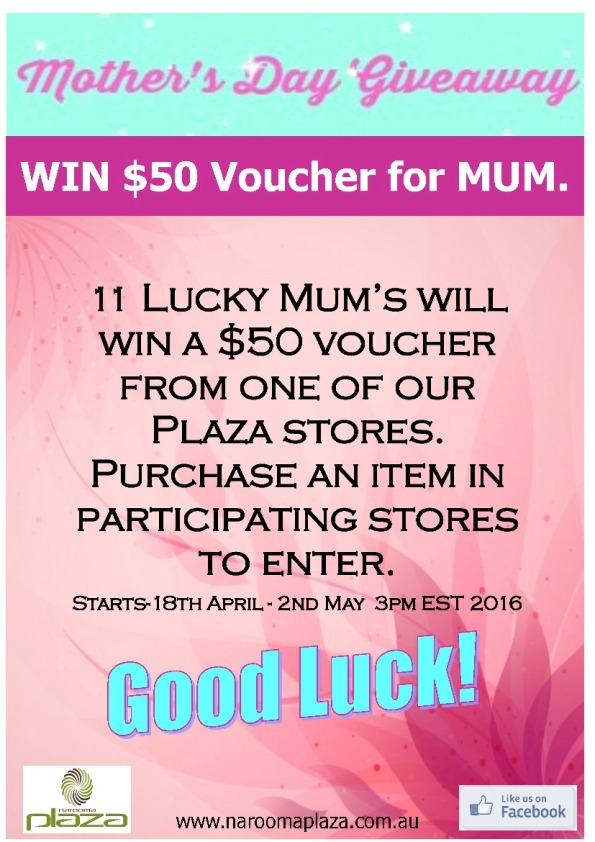 Terms and Conditions – Mothers Day - Win a $50 Plaza Gift Voucher
1. Entry into the promotion is deemed to be an acknowledgment of these conditions of entry. 2. To enter participants must make a purchase from any Narooma Plaza participating store, participants receive a ticket from the store, fill it out and put it in the competition box (located under the Dome). Participants may enter as many times as they like however they can only win once. Entries may be submitted by a person of any age. The winner must be over 18 years old and be a mother. Only one entry per person (each mother may have multiple entries, entered on their behalf by different people). 3. Participating stores are: That Garden Centre, Narooma Footwear, Sugar Pie Patisserie, Millers, Plaza Sub-Newsagency, Narooma Plaza Pharmacy, Roxy's Café, Heads Together Hairdressing, Silly Willy's, Plaza Cellars & New Body Massage.4. Promotion commences 18th April 2016. Entries close at 3pm EST on 2nd May 2016. 5. Entry is open to Australian residents only. Employees of the promoter, Narooma Plaza, and their immediate families are ineligible to enter. Narooma Plaza traders and their staff and Woolworths staff are ineligible to enter. 6. Eleven prizes to be won. The winners will win a gift voucher from one of the participating stores( see No.3) to the value of $50.00. 7. Winners will be drawn by representatives of Narooma Plaza on Monday 2nd May 2016 and notified (by phone or email) on Monday 2nd May 2016. Prizes will be on The Plaza Giveaway board, which winners get to select one envelope from the board & the envelope will have the store name to which the winner gets to spend their $50 voucher in. The order of who gets to choose from the Giveaway board is whoever comes into claim their prize first. 8.Results will be published in the Narooma News & Facebook. 9. Prizes must be collected from Narooma Plaza, Narooma. 10. All prizes are not redeemable for cash or other goods or services. 11. Proof of purchase may be requested from the winner/s by Narooma Plaza management. 12. The judges' decision is final and no correspondence will be entered into.13. Narooma Plaza reserves the right to use any entries for publication. The winner may also, at the request of the promoter, be required to participate in publicity activity on behalf of the promoter. 14. If the winner is unable to be contacted after 3 months the prize will be redrawn. 15. The promoter reserves the right to disqualify any entrant for submitting any entries which are not in accordance with these conditions of entry. 16. The promoter is Narooma Plaza, 183 Princes Hwy, Narooma NSW 2546, Phone (02) 4476 4180. 17. NSW Trade Promotion Lottery Permit No: LTPM/15/01116.